Watching the top of the eighth inning of the April 4, 2008, New York Yankees baseball game against the Tampa Bay Devil Rays, I wonder if the fork is finally stuck deep into what had been a powerful Yankee dynasty.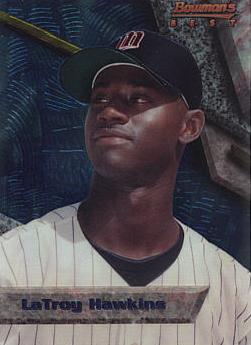 Down 6-4, Yankees' reliever LaTroy Hawkins forces a 6-3 ground out before giving up a blast to right field by Cliff Floyd that stayed just left of the foul pole.  For the past few seasons, the bullpen is expected to blow holds just like this one, but the real daggers are still to come.
After being hit by a come-backer that leads to a 1-4-3 out at first, Hawkins forces a routine fly ball to left. The Man Formerly Known as Godzilla gives chase, but does not have enough leg to collect the easy fly. The ball drops in for a double. The next batter, Riggans, hits a grounder into the hole at short. Using his signature scoop and hook-shot-throw-to-first, Jeter fields the ball and hurls it to Giambi (who is currently batting .100 after three games), only the throw is too late and the runner is safe.
Now, after the past two seasons, I'm prepared to watch a Yankee reliever get pounded out of the Bronx, but I'm not prepared to realize suddenly that even the Yankees who were the young Yankees are now the Old Yankees. Matsui has never really lived up to his promise, but for the past season he has been mediocre at best; consider his platoon duties in left with the rag-armed Johnny Damon.
But Jeter. Maybe this was an anomaly, but his throw to Giambi for the first out of the inning was up the line, forcing Giambi to earn the out with a tag.
After a passed ball, Hawkins gives up a bloop single that no one expects Johnny Damon to field (although, I suspect, Melky Cabrera would have made it close).
By the end of the top of the eighth, the Rays will lead 13-4 and the Yankee faithful will wonder if we're caught in the lull--the heroes nearing their twilight and the younger players (Cabrera, Chamberlain, Duncan, Hughes) still too green to take us to number 27.
Well, we still have 19 more than Boston.